Running AI workloads has caused Microsoft's water consumption to increase dramatically, inciting concerns over local water supplies in West Des Moines, Iowa. 
Microsoft's 2022 environmental report discloses a 34% surge in Microsoft's global water usage, nearly 1.7 billion gallons in 2022 alone. Water consumption at the Las Vegas data center doubled, whereas Oregon's remained similar, according to Fortune. 
The report primarily highlights Microsoft's successes in reducing its land-use footprint, improving waste management, and cutting single-use plastics and non-renewable energy. 
The dramatic rise has sparked particular concerns in West Des Moines, Iowa, where Microsoft's data centers consume large volumes of water, affecting the local supply. 
ChatGPT, co-developed by Microsoft and OpenAI, requires colossal water resources to cool the supercomputers that train its language models. 
According to Shaolei Ren, a researcher at the University of California, Riverside, "It's fair to say the majority of the growth is due to AI," including Microsoft's "heavy investment in generative AI and partnership with OpenAI."
In an impending research paper, Ren estimates that each 5 to 50 prompt interaction with ChatGPT consumes an eye-watering 500 milliliters of water. 
He adds, "Most people are not aware of the resource usage underlying ChatGPT. If you're not aware of the resource usage, then there's no way that we can help conserve the resources."
The thirst for AI
The trend is not confined to Microsoft alone. Google has also seen a 20% rise in water consumption, largely attributed to AI initiatives, according to Ren. 
Water and energy consumption results in vast CO2 emissions. A 2019 study from the University of Massachusetts found that training one transformer-based machine learning (ML) model could generate 626,000 tons of CO2.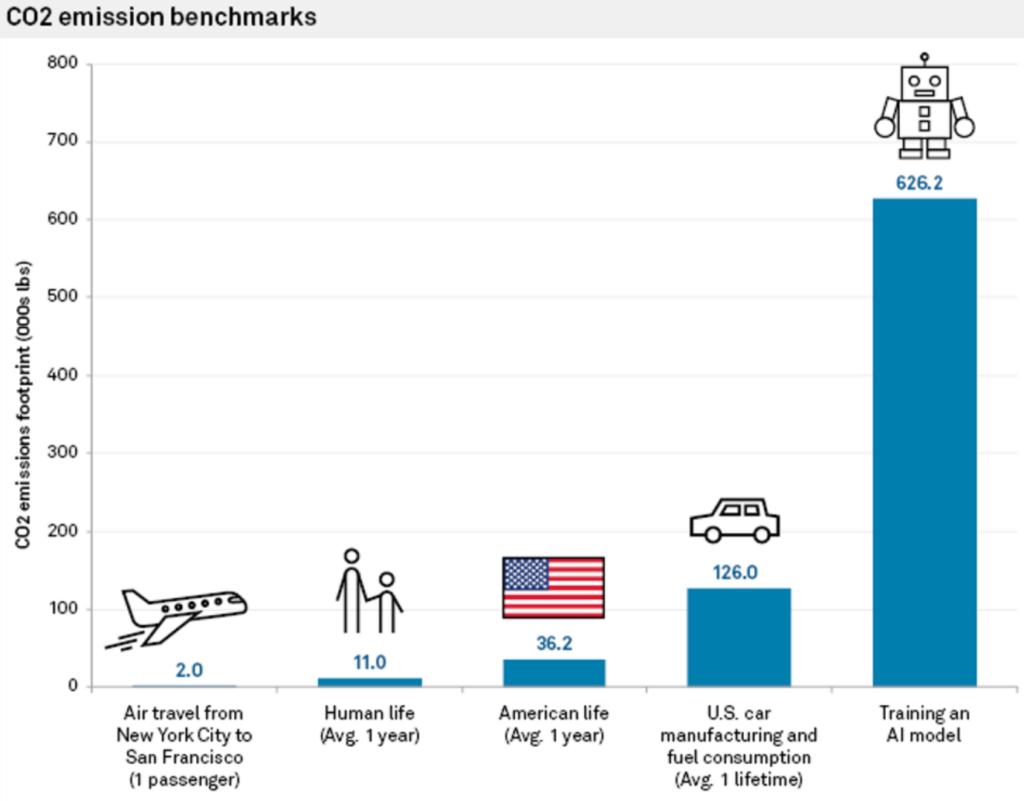 Additionally, in 2016, data centers – which are fundamental to deploying AI models – were estimated to account for 1 to 3% of the world's electricity consumption. 
In response to concerns, Microsoft issued a statement, saying, "We will continue to monitor our emissions, accelerate progress while increasing our use of clean energy to power data centers, purchasing renewable energy, and other efforts to meet our sustainability goals of being carbon negative, water positive and zero waste by 2030."
OpenAI resonated with Microsoft's sentiments, emphasizing that they are giving "considerable thought" to optimizing resource use.
Microsoft's data centers in West Des Moines have been expanding rapidly. According to Steve Gaer, the city's former mayor, Microsoft has been a substantial tax contributor but has remained "pretty secretive on what they're doing out there."
Microsoft's commitment to Iowa was further highlighted when the company's president, Brad Smith, revealed that they had built an "advanced AI supercomputing data center" in the state. 
Smith said, "It was made by these extraordinary engineers in California, but it was really made in Iowa."
Water usage and regional differences
Despite the intensive water usage, Iowa presents an interesting case of environmental efficiency. 
As Ren states, "In terms of training, there's no difference [between Arizona and Iowa]. In terms of water consumption or energy consumption, there's a big difference."
Iowa's temperate climate allows Microsoft to use ambient air to cool its data centers for much of the year, unlike its Arizona centers, which demand far more water. 
Nonetheless, the West Des Moines Water Works noted that during July 2022, Microsoft's water consumption accounted for 6% of the entire district's usage. 
Consequently, future collaboration with Microsoft is conditioned on the company demonstrating "technology to significantly reduce peak water usage."
As the thirst for AI grows, so too does its environmental footprint, compelling tech giants and local governments alike to consider the full scale of its impact.