The secretive startup Humane, steered by a team of former Apple innovators, has introduced a pioneering device called the "AI Pin."
Priced at $699, the AI Pin is a wearable projector designed to function as a personal assistant, offering a ChatGPT-like interface and the capacity to project onto the user's palm.
In Humane's words, it's "A phone, a contextual computer, a platform… all in one." 
It was developed in collaboration with OpenAI and Microsoft, whose models will drive its AI functions and features.
According to Wired, the AI Pin will start shipping in early 2024. Preorders will be available from November 16th.
Humane's AI Pin transcends typical wearables, offering functionalities like ultrawide camera capabilities, text and email communication, and AI responses to user queries. 
With an exceptionally compact design, the AI Pin weighs approximately 55 grams and can be affixed to clothing with a magnetic battery pack.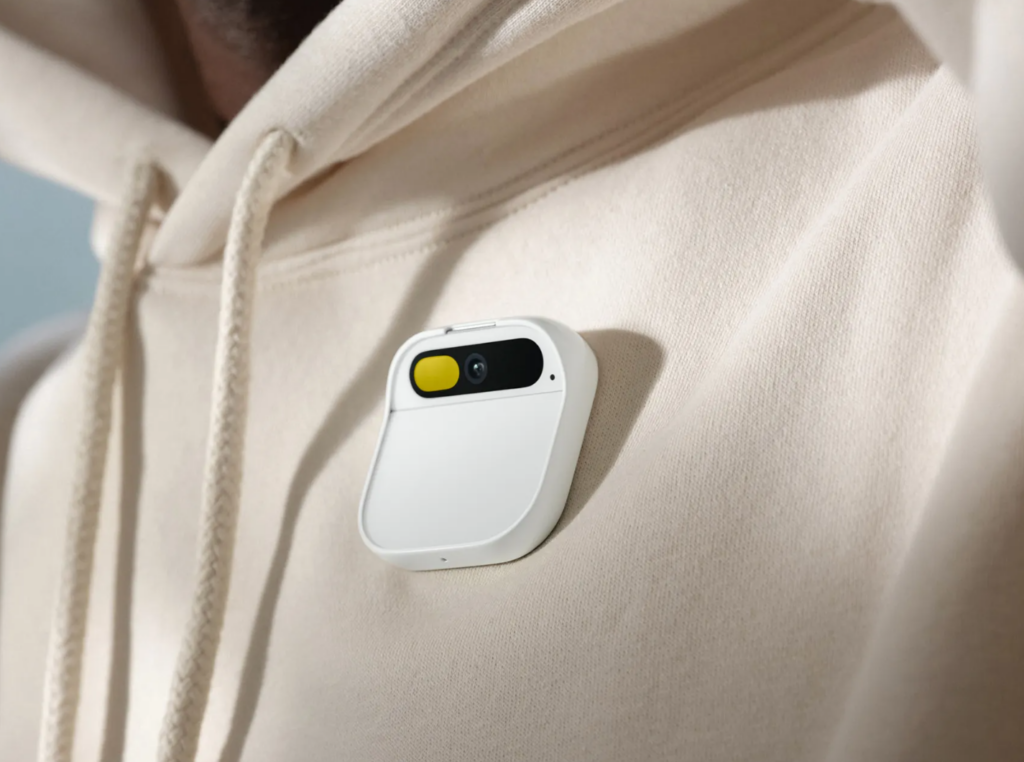 Individuals with pacemakers are advised to consult with their doctors due to potential magnetic interference, as disclosed by ex-Apple UI Imran Chaudhri in an interview with Wired.
The AI Pin's interface mechanism is intuitive, responding to physical gestures. A tap activates the projection, and hand movements navigate the operating system named Cosmos. Selections are made with a pinch gesture, while a closed fist gesture returns the user to the home screen. 
Chaudhri demonstrated these features at a TED Talk in April, including the ability to project caller ID and summarize emails.
Humane has designed the AI Pin to streamline the user experience by automatically selecting the relevant AI tool for given prompts. The device also boasts a "Personic Speaker" for various audio settings and a "Trust Light" indicating recording activities.
The AI Pin requires a $24 monthly subscription covering cellular data via T-Mobile, cloud storage, and unlimited voice assistant queries.
Tech reviewers worldwide can't wait to get their hands on it, and you can't blame them, as the AI Pin is a real curveball that could set the tone for futuristic AI-integrated smart devices. 
The device's real-world functionality, such as projection clarity in various lighting conditions, voice communication in noisy environments, and reliability in areas with weak signals, will be pivotal to its success. 
What we know about the AI Pin
Here are a few confirmed features of the AI Pin: 
Innovative user interface

: The AI Pin features a green laser projector for interfacing, projecting information onto your palm, and utilizing hand gestures for navigation, offering a screen-less experience.

Advanced sensory technology

: Equipped with a camera, depth, and motion sensors, the AI Pin actively tracks and records the environment, supported by a Qualcomm Snapdragon processor for robust performance.

Multifunctional wearable

: Beyond its projecting capabilities, the AI Pin includes a "personic speaker" for audio output and supports Bluetooth connectivity for use with headphones, expanding its utility as a multimedia device.

Privacy-conscious design

: The AI Pin incorporates a "Trust Light" that signals when the device is recording, ensuring users are aware of active data capture and requires manual activation for privacy control.

Subscription required

: The Humane Subscription not only provides cellular service and AI capabilities but also includes features like email summarization, language translation, Tidal music streaming with an "AI DJ," and AI-enhanced photography features, all accessible through the Humane.center tool for device management.

Release: According to Wired, the AI Pin will start shipping in early 2024. Preorders will be available from November 16th.
Not the same as the potential collaboration between Sam Altman and ex-Apple designer Jony Ive
This isn't the same device as the speculative 'AI phone' from OpenAI CEO Sam Altman and ex-Apple design luminary Jony Ive. 
The rumored collaboration between Altman and Ive hints at a consumer device that may harness generative AI, potentially revolutionizing the smartphone or creating an entirely new category of AI-native devices. 
AI is penetrating consumer electronics, integrating more deeply into the day-to-day user experience. Lightweight processors capable of running local AI workloads will help make this a reality. 
Whether a wearable projector or a reimagined AI-driven phone, the goal is a more intuitive and personal interaction between human and machine. 
A very exciting category of new AI-powered portable devices awaits us in the near future. Let's hope they don't fall flat like previous futuristic devices like Google Glass.