Microsoft is under scrutiny for a poll generated by its AI that accompanied a news story by The Guardian on the death of a young woman. 
The poll, appearing on the Microsoft Start platform, prompted users to speculate on the cause of the woman's death. Readers could vote 'murder,' 'suicide,' or 'accident.' 
The Guardian suggested the incident has tarnished their reputation and sent a letter to Microsoft, also shared with The Verge.
Microsoft transitioned to an AI-driven content production for its news services, a move that has not been without its share of controversy and errors. 
Commenting on the poll, one user wrote, "This has to be the most pathetic, disgusting poll I've ever seen."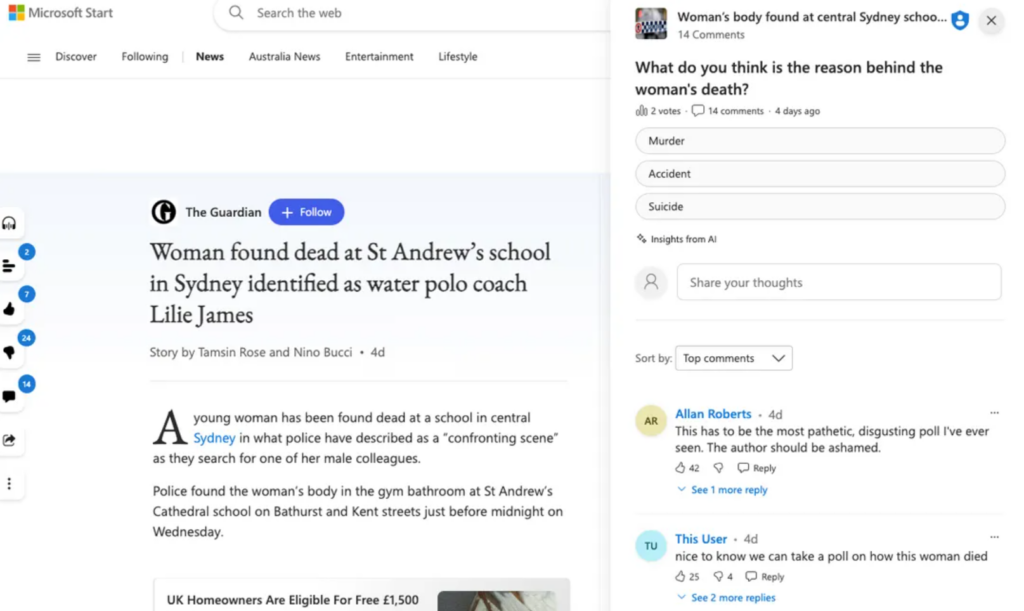 Anna Bateson, the chief executive of Guardian Media Group personally emailed Microsoft president Brad Smith, suggesting the poll had caused "significant reputational damage" to The Guardian and the journalists who wrote the story.
"This is clearly an inappropriate use of genAI [generative AI] by Microsoft on a potentially distressing public interest story, originally written and published by Guardian journalists," she wrote.
Previous incidents have called Microsoft's content generation practices into question. In August, an apparent AI-generated travel guide on Microsoft Start drew criticism for suggesting a visit to the Ottawa Food Bank as a tourist attraction. 
Jeff Jones, a Senior Director at Microsoft, later clarified that the guide was created through a mix of algorithmic processes and human review rather than purely by generative AI.
Microsoft's MSN also drew criticism earlier in the year when it seemed to write an incredibly poor article on the death of NBA player Brandon Hunter. 
The news article said, "Hunter's expertise led to his choice because the 56th general decide within the 2003 NBA Draft," and that "he performed in 67 video games over two seasons and achieved a career-high of 17 factors in a recreation in opposition to the Milwaukee Bucks in 2004."
Microsoft isn't the only company to be outed for its AI news blunders. News network Gannett dismantled an AI news writing project after social media users lambasted its blatantly AI-written articles. 
In July, a group of Redditors tricked an AI news outlet into posting a bogus article about a non-existent World of Warcraft update.
This won't be the last AI-generated news blooper, that's for sure.