Zelda Williams, daughter of the cherished American actor Robin Williams, has voiced concerns about using AI to mimic her late father's distinct voice.
Robin Williams is fondly remembered for iconic roles in movies like 'Mrs. Doubtfire' and 'Dead Poets Society,' tragically took his life in 2014 at 62. At the time, he was battling dementia and had a history of alcoholism, drug abuse, and depression.
Williams' versatile voice acting portfolio includes memorable characters such as the Genie in 'Aladdin' and Fender in 'Robots,' but his life-like voice has been used in various ways without permission. There are many free and paid apps and software that replicate iconic and celebrity voices using AI, and they're largely impossible to stop. 
Zelda Williams, 34, expressed her sentiments on the recent Hollywood actors' strike, partially due to AI's rising role in entertainment. 
Through her Instagram Story, she stated, "I've witnessed for YEARS how many people want to train these models to create/recreate actors who cannot consent, like Dad. This isn't theoretical; it is very very real. I've already heard AI used to get his 'voice' to say whatever people want. While I find it personally disturbing, the ramifications go far beyond my own feelings."
Zelda continued, emphasizing the importance of authenticity in performance, "Living actors deserve a chance to create characters with their choices, to voice cartoons, to put their HUMAN effort and time into the pursuit of performance."
"These recreations are, at their very best, a poor facsimile of greater people, but at their worst, a horrendous Frankensteinian monster, cobbled together from the worst bits of everything this industry is, instead of what it should stand for."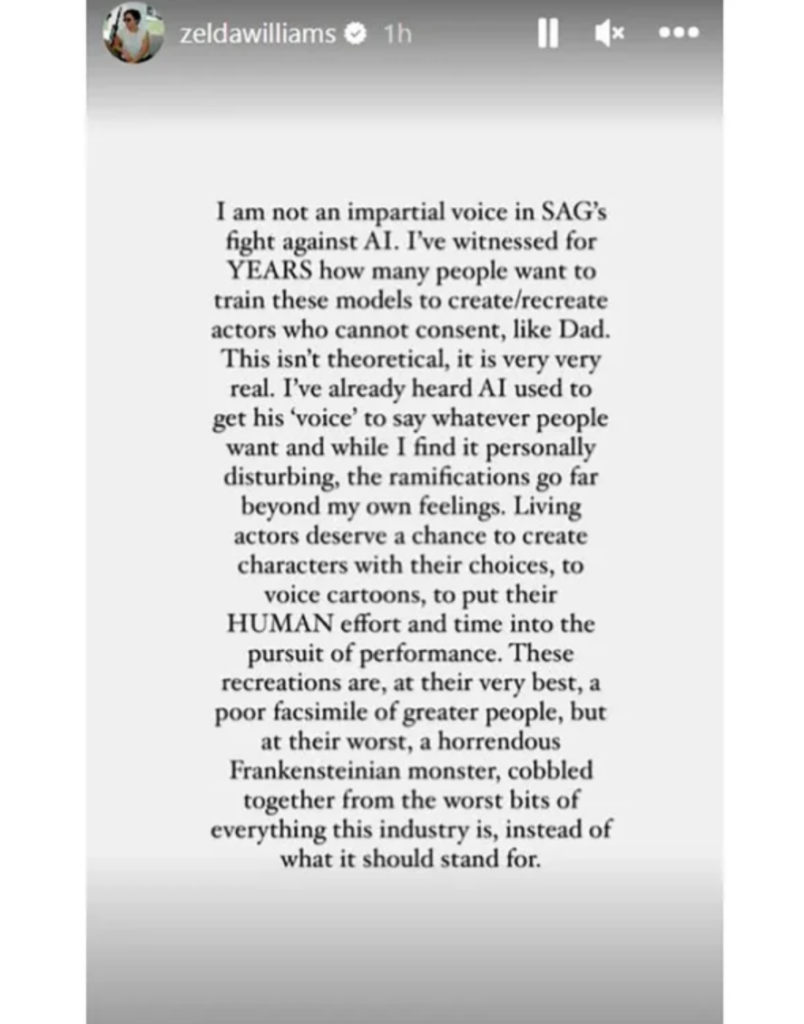 AI is being used to bring people 'back from the dead.' One particularly disturbing case involved a TikTok account posting videos of dead or murdered children speaking with AI-generated devices. 
The broader Hollywood community is currently in the throes of the actor's strike, tackling issues from the deployment of AI in the industry to the topic of residual payments.
The Writers Guild of America (WGA) finalized an agreement with the Alliance of Motion Picture and Television Producers (AMPTP), signifying the end to one of the industry's most extended strikes.
The forthcoming week will see SAG-AFTRA continue discussions with studio representatives.