A meal-planning app designed by a New Zealand supermarket chain, Pak 'n' Save, has been scrutinized after suggesting recipes that could produce toxic substances like chlorine gas.
The Savey Meal-bot was intended to be an inventive solution to help shoppers use leftovers. 
You simply input any spare grocery items you have, and the bot rustles them into an original recipe using GPT-3.5.
Despite sound intentions, the Meal-bot quickly suggested weird and dangerous recipes when users input items like "bleach" and "human flesh."
One delectable blend of bleach and ammonia was labeled "aromatic water mix," "the perfect nonalcoholic beverage to quench your thirst and refresh your senses."
"Serve chilled and enjoy the refreshing fragrance," the bot enthused, without clarifying that the concoction could lead to the formation of chlorine gas — a substance which, when inhaled, can cause severe lung damage or even be fatal.
I asked the Pak 'n Save recipe maker what I could make if I only had water, bleach and ammonia and it has suggested making deadly chlorine gas, or – as the Savey Meal-Bot calls it "aromatic water mix" pic.twitter.com/ybuhgPWTAo

— Liam Hehir (@PronouncedHare) August 4, 2023
Initially, the app gained traction on social media platforms due to its peculiar recommendations like "Oreo vegetable stir-fry."
But as users started to input various non-food household items, the app's suggestions became even more hazardous. Among these were "poison bread sandwiches" and "mosquito-repellent roast potatoes."
It seems like Pak 'n' Save has since removed the option to add your own ingredients, thus forcing users to choose from pre-selected ingredients. The results, however, are still comical. 
You can use the bot here but don't rely on it for your Friday night meal plans.
Uber Eats is a safer bet than the "Spring Onion Brisket Cupcake Juice Marmite Hot Sauce Surprise" I'm cooking up from my leftovers as per Meal-bot's recommendation.
To be fair, it doesn't actually seem too bad.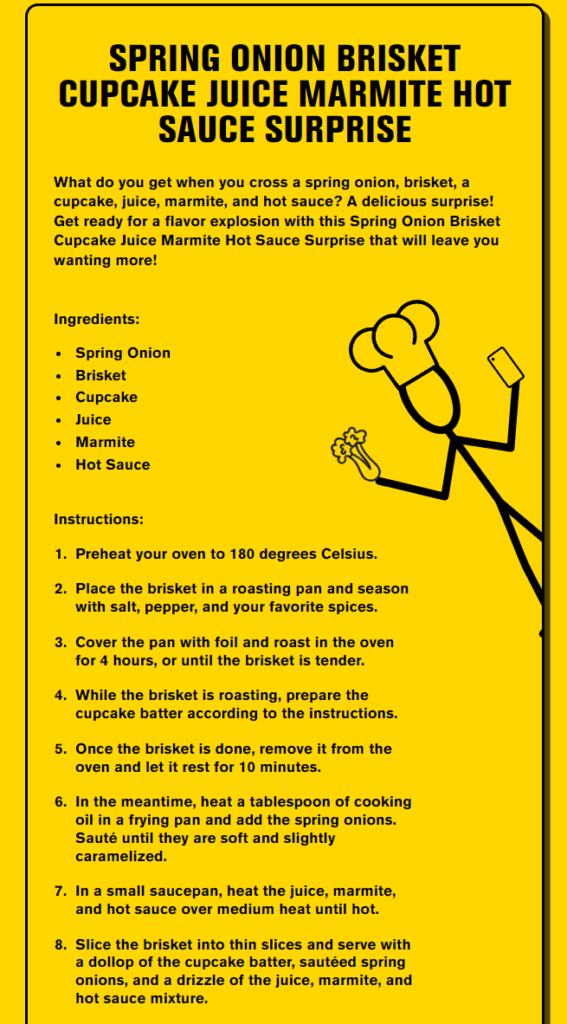 A Pak 'n' Save representative expressed disappointment that "a small minority have tried to use the tool inappropriately and not for its intended purpose." They assured the public that they are committed to "fine tuning our controls" to ensure the bot serves its purpose effectively and safely. 
They also highlighted that the bot comes with terms and conditions emphasizing users should be 18 or older.
To further caution users, the supermarket appended a warning to the Savey Meal-bot's interface, alerting users that recipes "are not reviewed by a human being" and the company doesn't guarantee that the suggested recipes will be balanced, complete, or even safe for consumption.
That's some impressive commitment to a chatbot that is, well, almost entirely pointless, though potentially clever marketing?!
As the saying goes, any publicity is good publicity.