Ezra Flash is an AI-supported MRI platform that provides full-body scanning across 13 organs. On June 1st, 2023, the technology received 510(k) clearance from the U.S. Food and Drug Administration (FDA) for brain imaging.
Ezra was founded in 2018 by Emi Gal. Their latest end-to-end MRI platform, the Ezra Flash, uses AI technology to optimize three stages of the MRI diagnostics process:
The MRI scanning process itself, which Ezra Flash's AI cuts from around 60 to 90 minutes for a full body scan to just 30 minutes.

Interpreting results – Ezra Flash uses AI to automatically sharpen images and make them easier to read.

Creating reports for radiologists and patients. Ezra Flash uses natural language AI to flag findings in easily interpretable language. 
Additionally, Ezra Flash generates accurate 3D models of body parts to explain its findings and alleviate pressure on radiologists. Ezra's innovative booking system enables people to book and manage their own scans, streamlining the entire process for both users and clinicians.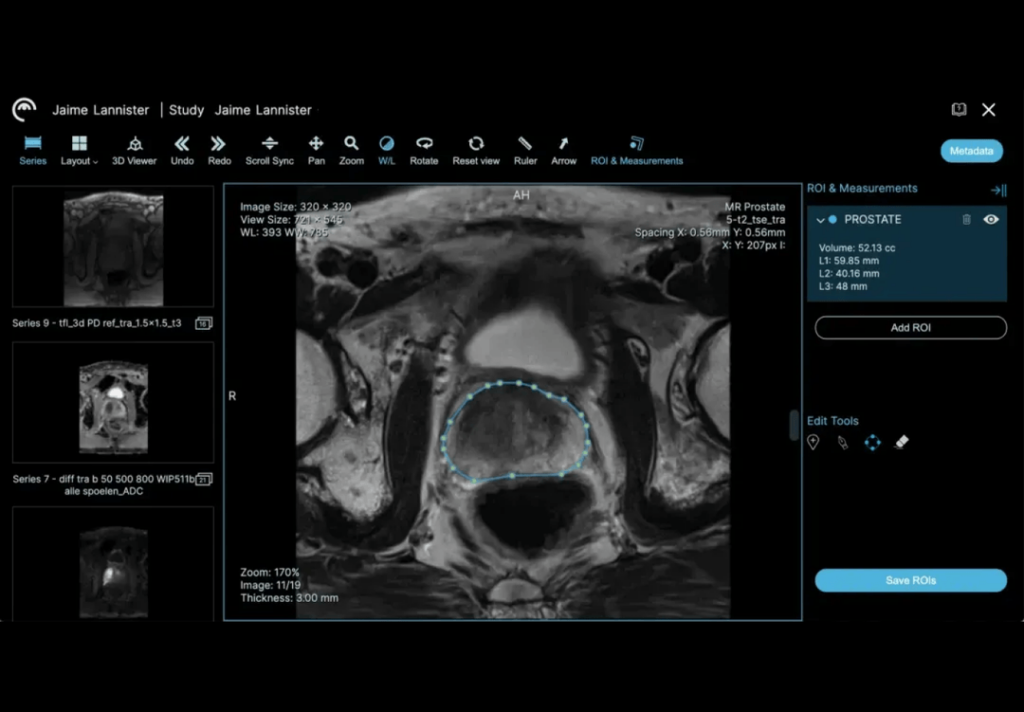 MRI is the gold standard for cancer scanning and diagnostics. Its creator, Gal, founded Ezra to support early cancer detection, which is essential to achieving successful clinical outcomes. "I strongly believe that the cure for cancer is early detection," Gal told Fox News.
Cancers often form over decades, and people don't seek medical advice until symptoms appear. 
Preventive scanning can find small growths years before they develop into symptomatic cancers, which are invariably harder to treat. One of the primary barriers to preventive scanning is cost, which Ezra is trying to solve by speeding up scans without compromising performance.  
With its AI technology, the new FDA-approved Ezra Flash costs $1,350 for a 30-minute full-body scan, which Ezra has cut from $1,950 for their previous 60-minute scam with no reduction in scanning performance. Conventional MRI scans can cost upwards of $5,000 or more for a full-body scan. 
Gal intends to further reduce the cost, "Ultimately, our goal is to create a $500 full-body MRI that anyone can afford." With 16 facilities in 6 cities (New York, San Francisco, Los Angeles, Miami, and Las Vegas), Ezra is expanding their network of AI-powered full-body MRI scanners. 
Early diagnosis the key to treating cancer
Gal said they've scanned over 5,000 people and found potential cancer in as many as 13%. 
Some cancers begin forming as long as 30 years before symptoms appear, which means the chances of Ezra picking something up are nerve-wrackingly high. 
There are many anecdotes of people using Ezra Flash – both positive and negative. For instance, one man, aged 36, attended a full-body scan with Ezra in 2022. He had no symptoms or reason to suspect cancer. His motivation stemmed from two friends who'd been diagnosed with cancer and told their tumors had likely been developing for 10 years. 
His scan determined he had a relatively large brain tumor, and clinicians said it might have been another 5 to 10 years before symptoms showed up, likely in the form of a seizure. At this stage, he'd have needed emergency surgery.
"It would not be an exaggeration to say my scan saved my life," he told Fox News Digital.
Early diagnosis allowed the man to consult multiple neurosurgeons, discuss options, and schedule surgery before the cancer potentially became inoperable. 
Regular MRI scanning to key to disease prevention  
Ezra Flash uses AI to optimize each step of the MRI scanning process, from conducting the scan itself to sharpening images and even offering automated report writing. This cuts consumer costs and alleviates some of the pressure on stretched healthcare systems. 
Moreover, since MRI is radiation-free and poses no risks, you could theoretically scan yourself every month for 30 minutes and detect cancers when they're just millimeters in length. 
Dr. Sodickson, Ezra's chief scientist and chief of innovation in radiology at NYU Grossman School of Medicine, said, "The goal is to initiate a virtuous cycle: Make imaging accessible in order to scan you more frequently, and scan more frequently to provide accurate monitoring of your health over time."
AI's role in medical diagnostics is ever-growing, and the costs are decreasing.
Ezra Flash underlines AI's potential to support human health while democratizing access to potentially life-saving technology.